Garages & Workshop Solutions
The Final Touch Design presents specialty storage products for the best in garages & workshop solutions. A Garage does much more than provide a place to park the automobile. A lot of people have their most precious possessions carefully stored in the garage. Other have their toys and golf carts (or electric low-speed vehicles), motorcycles, or all the beach gear to make the fun in Panama City Beach or Destin come alive on the water. Countertops, Cabinets, Slatwall, Gridwall, Racks, Bins and more to organize the stuff of a busy and active family. And we'll leave room for the automobile, too.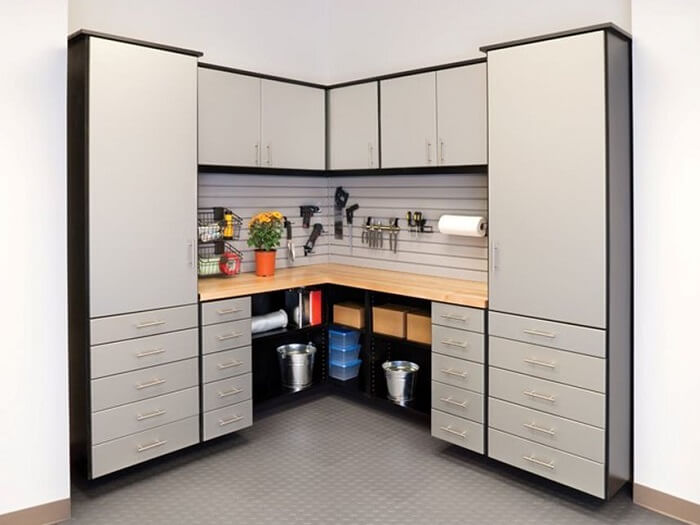 ---
The Home Garage Reinvented
OWe've come a long way in making homes comfortable and functional and now we need the home garage reinvented. Far too many homes, in the coastal communities along the Emerald Coast of Florida, have garages stacked up with cardboard boxes while the sportscar sits outside in the rain. The garage can serve many purposes and even present it beautifully while increasing the storage space. The Final Touch Design can handle every step for you.
Our professional design team is here to help you create perfect storage solution for your garage. Let's reinvent your garage and refine what comfortable and functional truly means.
Personal Workshops Made Personal
We create stunning personal workshops made personal With so many homes today having so many craft projects, hobbies, automotive upgrades or perhaps a jeep to build for the PCB Jeep Jam. There are so many things to do at home and all of the activities are made better when you have a dedicated workspace or a fully-organized workshop. Our professional design team has the talent, resources, and desire to create your personal workspace.
Rebuilding that carburetor from your old lawnmower is much less stressful with a a comfy stool, countertop, mini-fridge, some lighting, a tv with the ball game playing or some lively music playing in the cool breeze. We're talking about taking the Florida life to the max with a personal workspace or workspace. She-sheds and man-rooms and craft rooms are other fun additions to add to any multi-purpose space.
The Final Touch Design would be love to discuss your ideal workspace or workshop. We have all of the storage goodies to make your space personally-great.