The Final Touch Design is a closet design showroom in Panama City Beach with a quest to transform every closet into a beautiful mastery design. We create closets that make life easier for you. Your closet should be an asset to your home or business, whether it is a panty, laundry room, master bedroom clothes closet or a storage closet, with our proven process, the TFTD Design Flow, we are certain of the happy results we can provide to you since we've done so hundreds of times already.
---
We Design Walk-in Master Bedroom Closets
In a dream, you envision yourself dressing in the morning where your walk-in clothes closet in your master bedroom has the perfect lighting showcasing racks of shoes, drapes of dresses, and sweaters and suites all displayed so perfectly. As you turn, you see a full-size mirror reflection of yourself smiling. You awake and soon remember that The Final Touch Design is coming next week with your new dream master bedroom walk-in closet. Go ahead. Pinch yourself. Dreams do come true.
The Final Touch Design is eager to design the best solution for your specific needs. A closet that provides form and function while maximizing your space. We have the perfect storage solution for your lifestyle needs.
We Also Design the Perfect Pantry or Laundry Rooms
Did you know that The Final Touch Design offers a full-service closet design service for every closet in any home or office? We sure do! Our professional design team are busy at work creating the best designs for a pantry, coat closets, laundry rooms, mud rooms, hall closets, and much more. These spaces are important elements to the harmony of your normal routines.
The Final Touch Design is here to help property owners in the Panama City Beach, Florida area with professional closet design help. Let's make your closet storage uniquely special to you.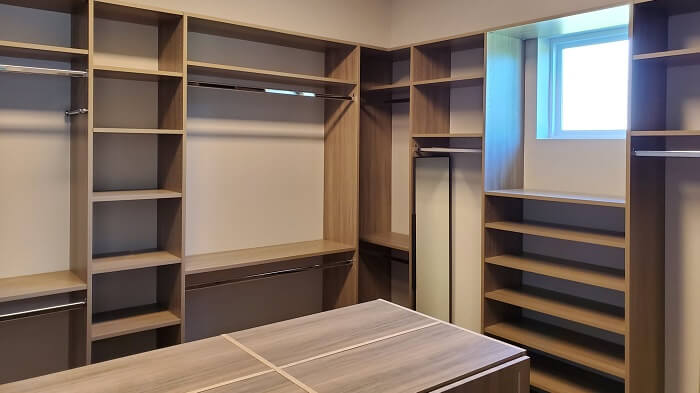 ---
When you contact The Final Touch Design for closet design help, you will immediately come to appreciate the skills and passion of our design team. As the local experts in closet design, we will make the entire process enjoyable for you. Contact Us today and let's design closets that make your daily and nightly routines easier and much more enjoyable, too.